Gosnold: The Man and his Motives Cape Porpoise, Maine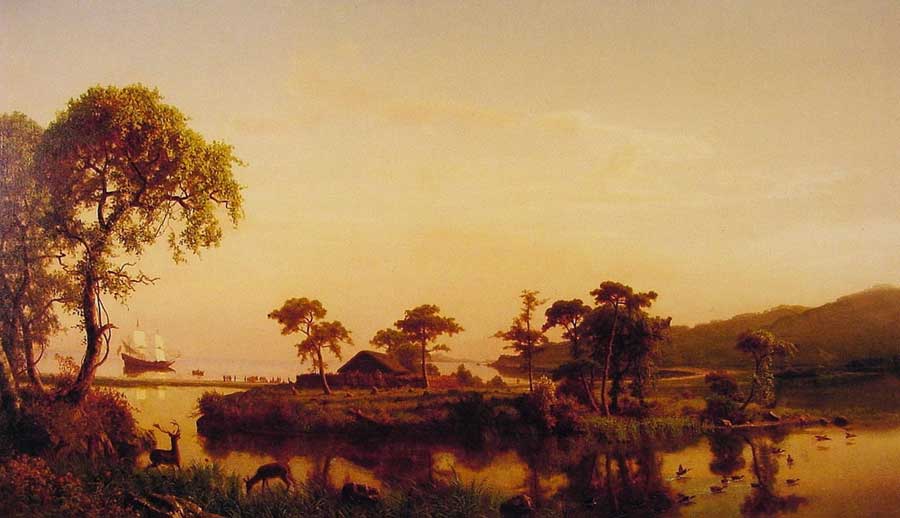 Gosnold at Cuttyhunk, 1602 1858 painting by A.Bierstadt
---
Bartholomew Gosnold's family lived at Otley Hall, a beautiful moated manor that still stands a few miles from Ipswich, England. He was born in 1572 with a silver spoon in his mouth and a passion for adventure in his heart. His parents, Anthony and Dorothy (Bacon) Gosnold, were both of notable families in England during the reign of the "Virgin Queen", Elizabeth I. Anthony Gosnold had a royal descent from King Edward III of England. Bartholomew's mother was of the same gene pool that produced Lord Francis Bacon. In fact, the branches of the Bacon and Gosnold trees crossed more than once.
Bartholomew was trained as a lawyer, attending Cambridge University and studying law at Middle Temple. He was inspired by a lecturer at Middle Temple, Geographer, Richard Hakluyt, whose The Principal Navigations, Voyages, Traffiques and Discoveries of the English Nation was published in 1600. The law apparently did not hold his attention for when Gosnold was invited, by Sir Walter Raleigh, on a voyage to the new world, he eagerly agreed. The voyage failed to meet its mission but Batholomew continued to sail as a privateer or some would say, a legal pirate, chasing Spaniards and dreams of glory across the Atlantic.
These gentlemen were not escaping persecution for religious beliefs nor were they wholly altruistic in their efforts on behalf of England. They were interested in money, power and immortality; real people with still familiar, human motivations. In 1602, Raleigh was falling out of favor in England. He had offended the Queen and many of his financial supporters. Preoccupied by his failed attempts to establish a colony at Roanoke, he sent out one last ship to try to find the missing colonists. All of his money, his reputation and his claim in the New World were at stake. Queen Elizabeth had encouraged adventurers to search for a Northwest Passage. This presented a loophole to Raleigh's patent. Gosnold, at just 30 years of age, seized this entrepreneurial opportunity. Plans for a voyage were made hastily and would be financed by Shakespeare patron, the Earl of Southhampton. The mission would be to discover a route to America on a more northerly tract as allowed by the Queen's decree but there was a secondary mission. They intended to establish a small colony in the "North part of Virginia". Gosnold would be accompanied by 8 crewmembers and 23 "Gentleman Discoverers", some of whom were intending to remain in the new world.
The Concord departed from Falmouth, England on March 26, 1602. The Barque was said to be in poor condition and dangerously small for such a voyage. In spite of some contrary winds, they made the trip in a record breaking 49 days and could "smell the land" at Cape Porpoise by May 14. Two gentlemen aboard, Captain Gabriel Archer and Cleric, John Brereton, wrote about their impressions of the "North part of Virginia". These first hand accounts have been indispensable to researchers, including our own Charles Bradbury, for 400 years. Both diarists describe an encounter with Native Americans at "Savage Rock", calculated by scholars to be near Cape Neddick. A Basque Shallop, with sails and oars, carrying 8 natives, boldly approached the Concord. Archer writes of the encounter, "One that seemed to be their commander wore a waistcoat of a black wool, a pair of breeches, cloth stockings, shoes, hat and band, one or two more had also a few things made by some Christians; these with a piece of chalk described the coast thereabouts, and could name Placentia of Newfoundland; they spoke divers Christian words, and seemed to understand much more than we, for want of language could comprehend."
The company proceeded southward, with confidence, relying on the chalk map for navigation. They established a temporary settlement at what is known today as the Island of Cuttyhunk. Gosnold called it Elizabeth Island in honor of Queen Elizabeth whose edict had made this voyage possible. Marthas Vinyard was named after Gosnold's infant daughter, who had recently died and he named Cape Cod for the abundance of fish that virtually "pestered" the Ship. The naming of the area seems at first glance to be sentimental but it also seems to be the act of a man claiming territory; territory that was part of the patent owned by Sir Walter Raleigh, who was back in England and ignorant of this voyage.
The settlers began trading with the Natives. Sassafras was considered a new wonder drug in Europe and the profit was great, as the Americas were the only available source. When the ships hold was full of sassafras and other commodities, the "Gentlemen Adventurers" could not agree upon a fair division of profits or of supplies between the colonists and those returning to England. In fear of being unfairly compensated or worse, of suffering the same fate as the lost Roanoke colonists, all those who had intended to remain at Cuttyhunk could not be persuaded to stay. The entire company returned to England with the undivided provisions.
The return trip to England was accomplished in only 37 days with the help of prevailing winds and the fact that they had cut their Shallop loose to lighten the load on the Concord. This was a common practice and may explain how the Native Americans at Cape Neddick came to be in possession of such a boat.
Once Bartholomew returned to England, damage control with Sir Walter Raleigh was commenced. Raleigh discovered the infringement when the market for Sassafras declined due to the quantities introduced by Gosnold's efforts. He wrote a letter to the Queen's Principal Secretary demanding that Gosnold's portion of the cargo be seized and given to him. Brereton's account of the trip was then "edited" to include a glowing dedication to Raleigh. This account was published and at once became a bestseller. Archer's account would not be published until 1625.
In spite of being stripped of his profits from his voyage to New England, Gosnold was undaunted. He began to plan his next adventure. Raleigh was no longer an obstacle as he was being detained in the tower of London for plotting against the new King, James I. The persistent explorer commanded the Godspeed, one of the three ships of the Jamestown Expedition in 1607. He was a leader in the colony for only three months, dying Aug. 22, 1607, following a three-week illness. According to first-hand accounts, Gosnold's funeral was ceremonial and included the firing of precious rounds in his honor. Bartholomew Gosnold was only 36 years old when he died.
How must he have felt on his deathbed? Did he feel he had failed to make a mark in his short lifetime? Two thirds of the Jamestown settler had died that first summer. He did not know that the colony would go down in history. He did not establish the first permanent English settlement in New England as was his intention but his bold ambitions changed the course of our history too. Had his voyage in 1602 not inspired Martin Pring to make a proper discovery of the Kennebunk River in 1603, French explorer Samuel de Champlain would be credited for discovering our coast in 1604.
In February of this year, 2003, the archeological Jamestown Rediscovery Project, unearthed a nearly 400 year old grave. Based on ceremonial artifacts found with the remains and dating of the gravesite, the Archeologists are reasonably certain they have found Bartholomew Gosnold. DNA tests results are being compared to Gosnold family descendants for confirmation.
Sources:
"The History of Kennebunkport" by Charles Bradbury, 1837
"The relations of Captain Gosnold's Voyage to the North part of Virginia" by Gabriel Archer, 1602
"Master Bartholomew Gosnold's Letter to his Father, touching his first voyage to Virginia" by Bartholomew Gosnold, 1602
"A Briefe and True Relation of the Discoverie of the North Part of Virginia" by John Brereton, 1602
"Beginnings of Colonial Maine" By Henry S. Burrage, 1914
"Charter to Sir Walter Raleigh" : 1584
"The Clandestine Nature of the Voyage is Proved by B. F. de Costa, "Gosnold and Pring," in N. E. Historical and Genealogical Register, 1878, vol. XXXII
University of Virginia, Virtual Jamestown (source documents)
The Avelon Project (source documents)
Karle Schlieff's extraordinarily rich new edition of Bartholomew Gosnold's work
Sharon Cummins